Marketing is the art of selling stuff that people don't need at all. You come with the idea of an innovative product or service that no one promoted before, you then find the creative idea to sell it, you pack your idea and it's on its way to shelves and then head  to homes.
The list below is invending machines around the world. Most of the products they sell in are products you do need but in vending machines? I do appreciate some of them indeed and believe that they reflect the life style of the community where they are installed. Furthermore, it's a genius marketing idea and I believe each of them is a "talking" stand up poster display for the brand.
You can sell things in vending machines small enough to be fitted out of tray. But now it seems that they sell anything fitted out.
Once I read that in Japan they sell eggs, bras, live lobsters, salad, cold and hot coffee, ties and, even used underwear from machines. Could be an urban legend. I've never been to Japan and can't confirm it. Here are other creative vending machines.
Sprinkles bakery from New York sells its delicious cupcakes around the clock from cinnamon chocolate to seasonal specialties in a pink cupcake vending machine. They also have machines in Atlanta, Chicago and Dallas. Bon appetite on your way home.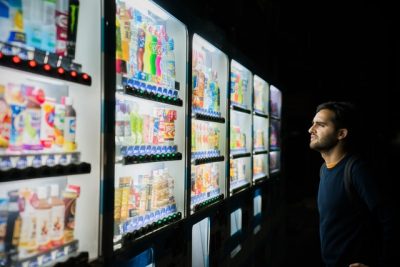 If you plan a family holiday in Sydney do not worry to pack your flip-flops all the way there. The Havaianas flip-flop vending machine in Sydney's city center is waiting for those who travel unprepared. Any sizes, any styles for $20.
What do you think so far? Am I right to describe any vending machine as a"live" sign holder stand? Not yet? Read a bit more then.
If you live somewhere with warm weather you are never used to the idea of carrying an umbrella in your bag. If you visit Vancouver, one of the wettest city in Canada, your forgotten umbrella will be waiting for you in a vending machine for $5. A pocket-sized umbrella. I think they need those umbrella ATM in the UK as well.
They sell bicycle helmets in Melbourne, Australia as it's illegal in Australia to ride a bike without a helmet. Green Reads in Canada offers a solution to the possession of too many unread books and sells secondhand books in a vending machine. Ever heard about Caviar Automated Boutiques in Los Angeles?
Or the first-ever burrito vending machine in the University of Southern California campus? Or gold bar vending machine in Dubai? It's all about to make the product available where your prospects need it. You may need a larger budget for a vending machine but you sell your product at the very same time you advertise them. I think a vending machine is a sign display stand acting as a portable salesman.