I have a special interest in the  Olympic Games!
I was in London for last years . I enjoyed a lot. It was an unforgettable life experience, meeting new people, getting excited with 80,000 others plus the one's watching at home.I only regret that, I wanted to buy one of those lovely red telephone booth poster in a 24×36 frame however it was not possible to carry it in all that fuss!
Anyway you know for 2020 Summer Olympics, Tokyo, Istanbul and Madrid were the three candidate cities. I've been thinking of paying a visit to İstanbul since I saw that Olympics promotional film. The historical places, Bosphorus and all looked very spectacular!
Besides I've been to Madrid, and Tokyo is so far. Some trip advisors found it unsafe to visit Istanbul but I had to go and see myself!
First of all I, I am safe and sound and back home. So, don't be scared to go. I stayed in the Old City, at a hotel named Sultanahmet Palace right behind the Blue Mosque. You can have your breakfast in the terrace looking at beautiful the Marmara Sea. It was very close to the major attractions in the historic quarters. Clean, safe and reasonably priced with a bit of historical essence!
Walking distance sights are Topkapi Palace, Haghia Sophia, Blue Mosque, Hippodrome, Turkish & Islamic Art Museum, Basilica Cistern, Grand Bazaar and Egyptian Bazaar. If you have limited time, you can take a guided walking tour. Check the days museums are closed.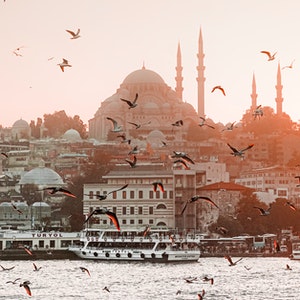 For example Topkapi is closed on Tuesdays and Bazaars on Sunday. I highly advise Grand Bazaar, Topkapi, Basilica Cistern, Blue Mosque and Haghia Sophia. I bought lots of souvenirs and gifts from the Grand Bazaar, like mirrors, tea cups and miniatures in 8×10 frame .You can eat meatballs at Sultanahmet Koftecisi, yummy. Also try irmik helvasi for the dessert.
In Eminonu (you can either walk or take a tram), you must take Bosphorus Tour. Lovely in the spring to see all those colorful blossoms and spectacular waterside residences.
I also went to Taksim Square (either take a bus from Eminonu or take the tram to Kabatas and then metro to Taksim), the square that is famous with all those demonstrations. Actually there is not much to see on the square, but if you take the Istiklal Street at the end you can visit  Galata Tower. Istiklal Street is a lively place, especially for the night life.
There are lots of shops and people selling on the street, and you can find almost anything; even food like chestnuts, simit (sesame bread like bagel), and mussels! Guess what I bought from one of those people: a red telephone booth poster in a 24×30 poster frame .
Funny, eh? British souvenir from Istanbul! But I guess I will leave the frame at the hotel and roll the poster, so that it will be easier to carry. After all, it does not have to be too hard to frame a poster back home.