Everywhere we go my son collects every piece of literature he finds; leaflets, brochures, questionnaires, business cards. When we were at the shopping mall, last week, he ran directly to the area where the pamphlet holders are and collected some leaflets as usual.
When we sat to eat something I scanned the literature he had brought. At least to show some respect. One of the leaflets was about an amateur baking competition! It was a competition by a white goods company and the winner would get an oven.
Oh well, I was good at cooking and baking, and my oven was broken. I could give it a try and bake my famous carrot cake for the competition. But the leaflet was torn and it was not possible to see the "how to apply the competition" part.
So after we noshed on pizza, we went back to the literature display holders to get a proper leaflet. It said the competition was the following week and we had to fill in a form at the info desk. My carrot cake recipe is no big deal actually, but there are some tricky ingredients. It is from my grandmother, who had Indian roots.
Years ago, when I was still in college, she gave me the recipe since I liked it a lot and she told me to remember to put coconut and pineapple in the carrot cake. And also a bit of cinnamon. The combination of those, was her secret.  Sometimes I add nuts as well. My son and his friends love every mouthful of my cakes.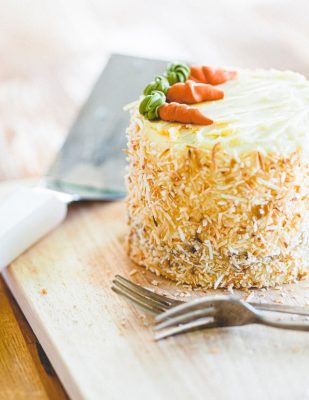 We headed to the info desk, asked the lady at the counter about the competition. She showed me the form in the brochure racks countertop. I took one and filled it in. There, I was gonna impress the jury with my carrot cake, just one week later.
The week later, the whole family was at the show to give me support. I was there with my apron and hat and my ingredients, next to the other contestants. When they said we could start, I buttered two 9 inch cake pans, placed wax paper at bottoms of cake pans, and buttered them as well.
Then I sifted dry ingredients into a bowl, added oil, eggs, and vanilla, and beat well. I folded in chopped walnuts, coconut, carrots and pineapple. I poured this batter into pans, and put in the preheated oven of 350°F for 45-50 minutes. Now it was time for the frosting, I mixed the cream cheese and butter, and slowly sifted in sugar and beat until the mixture was free of lumps.
Stir in  the cinnamon. I did not have time for the cake to cool down and I had to sprinkle the top with chopped walnuts when it was still hot.
Despite this, guess who was the winner. I tell you, the jury almost cried while tasting my cake.  Now I am writing this post, in my kitchen with a carrot cake in my new oven!