First time I saw that poster in an 18×24 poster frame, I was on my way to work in the morning. I was asleep, and it made me all awake. My heart started beating like a drum. I was sure that was love at first sight. I immediately dreamt myself in that picture!
Call it selective perception or something else, I kept running into the same poster continuously in different places in different posters frames.
I couldn't stop thinking about that picture. Me in that bathroom, sitting on the edge of that elegant circular tub, waiting for it to be filled up with water. Steam all around. In a few minutes, I will take off my robe, and get in that bubbling tub.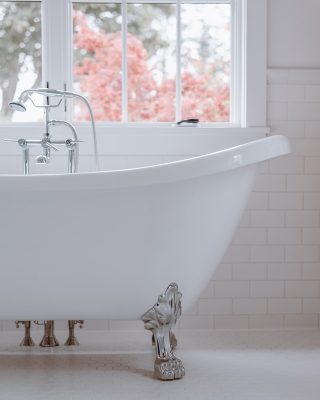 Then immerse myself completely in water colored with light. Bubbles all around my body. I want that long lingering candlelit soak before bed. No ducks or bathtub toys at sight. There can be soft music playing. No crying. A full rejuvenation and relaxation. That is all I need after giving birth to a 3 year old and twins in the last 4.5 years. I definitely need that break.
However, I had to go work and then back home, prepare dinner for us, wash the kids before they go to bed. Myself? Maybe a quick shower, if I am not dead tired.
2 weeks later I saw the same tub once more, this time in a double sided poster frame. I saw it, when I was walking on the pavement from one side, and after I passed by it, I looked back to see it from the other side. I could not stop looking at it!
I was with my husband. He must have understood the deep connection between me and that bathtub that he took me to the store that sold the bathtub in the mall. It was not that expensive. I can still not believe we bought it just like that.
An hour ago I was sitting on the edge of the tub. I was in love in our bathroom. Not for myself though, as in my dreams. 3 of my kids were in my dream tub, swimming and making the bathroom floor totally wet! At least some of us are very happy at home.