"Are you a cat or dog lover?" asked the leaflet in my hand I just got from the brochure display holder.
Of course I did not understand what they meant in the first hand. But when I read further; I got the point. You know cats are more independent and are generally less demanding pets.
When they want attention, they come close, other than that they want a space for themselves. Dogs are loyal and obedient but require more attention and exercise. You have to take them on a walk at least once a day, you have to play with them etc.
Actually there is a picture of a cat and a dog on the pamphlet that you can even see when it is still in the transparent literature display holder, and they explain it all.
Say you arrived home a bit late from work. The cat in the photo is like she is saying: "Well, finally you found the way home. You don't even think there is someone waiting for you, right? You don't care if I am worried about you, if I am hungry, if I need something. OK now, come closer, Caress me. Right there. Yes. Purrrrrr. Yes. Some more here. Purrrr. OK, that's enough. You can go now. Or I go."
But the dog looks like "Oh, whole day I've been waiting for you. Are you here? Play with me. Play with me. I do whatever you want. Look I brought your remote. Will you take me out? What if I hug you like this? What about licking your hand?"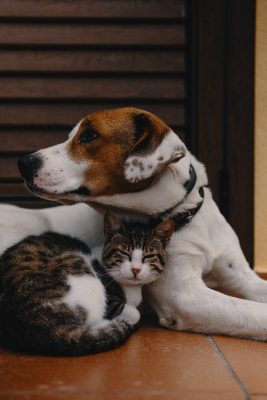 Usually, I am not interested in the leaflets from brochure holders and displays, but this one caught my attention. Because I wanted to show it to my girlfriend who is a real cat lover. Just for a laugh, you know.
When I was home, where I live with my girlfriend, she was reading on the sofa.
She saw me getting in, but did not care too much. She kept reading. I gave a kiss, and put the leaflet on the page she was reading. She read it, approach her face next to mine while she pushed the leaflet with her paw(!), and just went back reading without saying a word. I caressed her hair. She closed her eyes and made a sound like purring. I asked are you a cat, or a dog. She just stared at me as if she was going to scratch me!
Then I found this video about cat friend and dog friend on youtube: http://www.youtube.com/watch?v=GbycvPwr1Wg . It explains very well the stereotype. She had to accept she is a cat!
So what about your girl/boy friend, is she a cat or a dog?