It is always hard to start over again after fun, carefree summer days.
Back-to-school would be a "milestone" every single year. If you get prepared to it, your kids and you will survive the new school year, if not good luck for the first days or weeks depending on your child's attitude.
This year I threw a back-to-school garden party.
My daughter's school always arranged a party on the first week of school but a house party is an entertaining way to make them ready for the new school year before school starts.
They get back in the groove again before the first day of school. I ordered a fun back-to-school floor sign. I prepared a school supply cake that I saw on pinterest. It was just made with pencil case, crayons, glues, and notepad and  was really colorful. When the party ended each kid went home with pencil case, colored pens, erasers, and a fun notepad. That's how you consume the supply cake…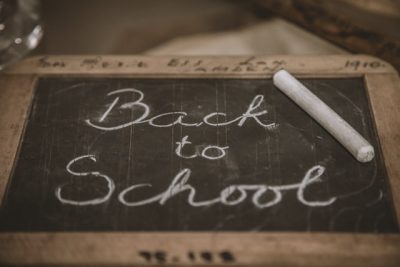 I took many pictures on Elmer's 1st day of school app.
Have you ever heard about it? Elmer's support the Kids in Need Foundation with their 1st Day App! It's free and all you need to do is to capture photos from that big day with your mobile device. It doesn't have to be necessarily on the 1st day of school.
Every time you upload a picture, whether it is the first school day, the first sleepover, or a soccer game Elmer's will donate a school supply to the Kids in Need Foundation. Just with first day memories you would donate for a charity.
I used fun outdoor menu stands too… They weren't just menu stands but also "tricks stands" to entertain them. You must have seen them trying to find a clue on one of them and follow that clue to find next clue and finally they would reach the school supply cake where it was hidden and got the party favors in the end.
I served easy-to-make and budget friendly snacks. They play "teacher says" (you know the Simon Says game; this is its back-to-school version), freeze tag, and other outdoor games. I used a "1st day of the school" sign holder stand that they posed with for a memorable keepsake.
It was fun and I can say that they started the school year off right.