I went to my travel agency to get my ticket for my regular parent visit.
That is when I realized the peaceful view displayed on a retractable banner standing right beside my chair. I suddenly started dreaming myself of that picture; I had already traded in my high heels for flip-flops and a bikini.
I was lying under the warm sun with my happy-hour drink. I had a big smile on my face, intoxicated by the scent of flowers and ocean tides.
Then they called my name. It was my turn. I quickly came back to reality. When they handed in my ticket, I asked where this view on the roll up banner was from. The girl on the counter said it was "Bora Bora" and gave me a leaflet. There were more views of the "paradise". I started reading. Bora Bora is an island in the Pacific Ocean. It is of French Polynesia and is a major international tourist destination famous for its aqua-centric luxury resorts. I could see why.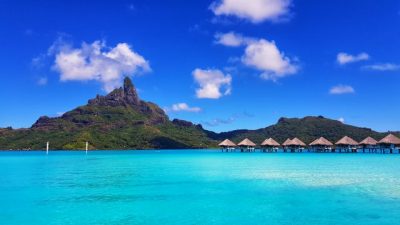 There were almost 10 pull up displays with different holiday resort pictures in that room but none was as appealing as this one! There were different accommodation options on the leaflet. Most were over-the-water bungalows on stilts over the lagoon. Some were comparably cheap, probably offering basic accommodations and some were expensive depending on the luxury level. I chose a basic one. Right there. I tell you what, it doesn't cost a fortune.
It also said on the leaflet that snorkeling and scuba diving in and around the lagoon of Bora Bora are popular activities. I will definitely try both. I am sure when I tell mom and dad that I organized a trip to Bora Bora, they will ask me if I was going alone. Mom will start the same conversation about the beauties of getting married and having a family and all. But I could not postpone this well deserved holiday only because I did not have a boyfriend. Who knows, maybe I will find romance and meet the one at Bora Bora?